10 sports medicine leaders to know
Below is a list of 10 sports medicine leaders who have made a positive impact on their organizations and have their sights set on future growth.
Tips to keep students safe from heat
Doctors Offer Tips for Outdoor Activities and How to Avoid a Heat-related Illness
ALLEN, Texas — Students who play competitive school sports may think they are tough enough to endure sweltering practices, but it's difficult for any athlete to tackle the triple-digit heat.
It's Freakin' Hot in Texas. How Will Student Football Players Fare?
Friday nights are big in pigskin-loving Texas, and many fans are excited for high-school football season to kick off next week. But one factor is causing some serious concern: the heat.
Andrew Parker, M.D., Orthopedic Surgery
The Ones For Wellness – The Best Time Of Day To Work Out
Dr. Patrick Schrauwen and his team studied a moderate exercise routine on two dozen men. All of them were pre-diabetic, meaning their blood sugar levels were higher than normal. After 12 weeks of doing the exact same routine, everyone had better cardiovascular health, but those who worked out late in the day got a bigger metabolic result.
Dr. Parker Talks About His Practice Philosophy and Why He Chose Orthopedics
Melissa ISD trainer, team doctor revived stricken game official
By now, most folks have heard about the life and death situation that unfolded near the end of the Melissa-Celina football game on Oct. 18 at Cardinal Stadium. For those who haven't heard — a veteran game official, umpire Dennis Bennett, 69, collapsed on the field near the north-end goal line as the Bobcats were driving for a late go-ahead score.
Two who arrived first on the scene — Melissa ISD Licensed Athletic Trainer Jose Mendez and Cardinals team doctor Dr. Andrew Parker — knew right away that the stricken Bennett was facing a serious cardiac episode. Thanks to their quick action, Bennett was revived and we can now report he is doing well at his home in Parker, Texas, with wife Sharon.
"Dr. Parker and Jose did a great job," Bennett said by phone on Friday. "If it wasn't for them, it would have been over."
Official collapses from heart attack at Celina vs. Melissa game, revived on field
Melissa coach Matt Nally praised those who attended to Bennett, saying they handled the situation promptly and effectively
"He had a full-blown heart attack," Celina coach Bill Elliott said. "It puts it all in perspective. It's life and death."
Melissa's school-appointed doctor and athletic trainers from both schools administered CPR and electrical shocks to Bennett on the field. Elliott said an ambulance had to be recalled to the stadium because it had been there earlier but then had to leave.
Umpire Dennis Bennett could have died on Melissa's football field. Instead, he lived to meet the man who saved him.
ALLEN — The way Dennis Bennett explains the night of Oct. 18, he couldn't make out a fellow official who'd just tossed him a football. There was no pain, no shortness of breath. Just a blur.
Andrew Parker, 34, is a short, baby-faced orthopedic surgeon who doubles as Melissa's volunteer team doctor. Jose Mendez, Melissa's athletic trainer, is younger still. But the pair knew exactly what to do when Bennett collapsed near the end of a game against Celina.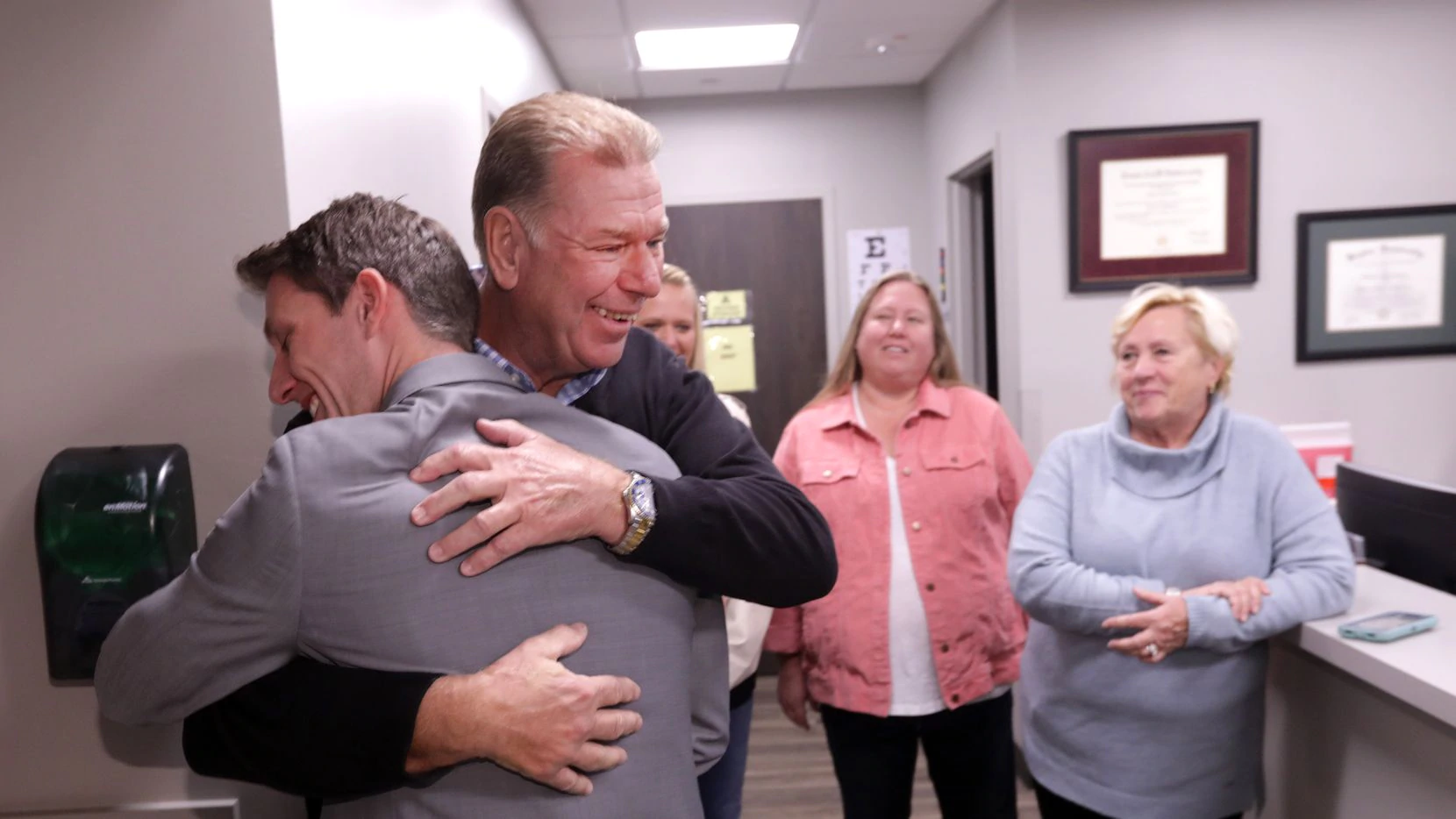 Melissa ISD athletic trainer, doctor credited for saving umpire's life
MELISSA, Texas - The right people were there at the right time in Melissa to help a high school game official who went into sudden cardiac arrest last month.
Dr. Andrew Parker is an orthopedic surgeon for Texas Health Allen. He happened to be volunteering on the sidelines that night and ran over to help.
"He had a very weak pulse," the doctor recalled. "He was not responsive. Something was bad."
"So I said, 'Everyone stand clear.' moved away. Everybody moved away," Mendez recalled. "And it delivered a shock to you. At that point, Dr. Parker gave you 30 compressions. After 30 compressions, you came back."
Referee Who Collapsed on Field Meets Doctor and Trainer Who Helped Save His Life
When 69-year old high school football official Dennis Bennett collapsed on the field during a game last month, there was already a game plan on the sidelines for an emergency. It likely saved his life.
Doctor Saves Referee's Life After Heart Attack On Football Field
If not for the quick action of Dr. Andrew Parker, an orthopedic doctor for Texas Health Allen, 69-year-old Dennis Bennett might not have made it.
Texas Doctor Saves Referee's Life After Sudden Heart Attack on the Field
Dennis Bennett, 69, had no idea what would take place when he stepped onto the field to referee a high school football game in North Texas.
Bennett was refereeing in the middle of field at a high school football game when he collapsed. Dr. Parker was nearby and rushed to his aid, saying Bennett's pulse was fading fast. Dr. Parker had to shock Bennett but his pulse was still fading. That's when Dr. Parker began CPR and Bennett began to come to.
He was later rushed to the hospital where doctors put a defibrillator in his heart.
"Words can't express my gratitude for what he did and how fast he did it," Bennett said. Bennett's wife and daughters are grateful for Dr. Parker.